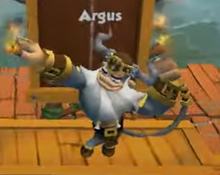 Argus is the overseer of the Monkey Games. 
The Monkey Games is a collection of games to help monkeys grow their agility, speed, sportsmanship and desire for adventure.
Argus can be found at the Clock Tower Square.
Quests
[
]
Argus's Daily Quest
Argus wants you to earn two stars in each Warrior Run and Torch Frenzy.
Reward: 1400 XP
Trivia
[
]