Featured Article
Although no cinematic or animated adaptation of Monkey Quest exists, the option was considered by Nickelodeon for some time. This article is an overview of known information.
Movie
[
]
In 2012, Paramount Pictures had plans to create films based on existing Nickelodeon IPs (both being owned by Viacom, now ViacomCBS). A Variety article from August that year tells us:
To start filling a pipeline, Paramount chief Brad Grey is turning to sister division Nickelodeon to supply much of the IP. Though development has not begun yet, possible Nickelodeon products that could be turned into films include "Dora the Explorer," "The Legend of Korra" and "Monkey Quest."[1]
Although nothing in this article implies a Monkey Quest movie was given much thought, a Brazilian fan site features a post discussing rumors about the film. In it, the writer presents a screenshot of an interaction they had with the Monkey Quest Twitter account.[2]

The mention of a 'creative process' is significant, as it proves that Paramount and Nick did explore the possibility further. Nevertheless, that process seems to have ended fairly quickly, as evidence exists of another Monkey Quest adaptation that was in the works.
Series
[
]
At one point, an animated series based on the game was in development by Eric Robles and Dan Milano, who are currently the co-creators of 'Glitch Techs'. After half a year of work, Nickelodeon abandoned the project due to a decrease in Monkey Quest's popularity. Below is an excerpt of an interview with Robles.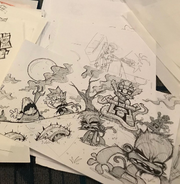 "After Fanboy and Chum Chum I was put on an Overall Deal at Nickelodeon, which means I would either help to develop current projects they needed help with, or by developing my own original ideas. One of the projects I was asked to help with was a game property that Nickelodeon owned called "Monkey Quest." It already had a pretty decent fan base online so I spent a few months working on it and once I pitched my idea on what a story would be, they liked it and asked me to start interviewing screenwriters to develop the script. [...] We developed the project for about six months and it was coming out fantastic, but in that time Nickelodeon let Dan and I know the hype on the game was declining and they didn't feel as confident about producing a show for it anymore."[3]
Eric Robles has also mentioned the project on his Twitter account. [4]
References
[
]