This was once a featured article!  

Crafting allows y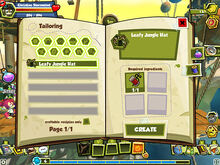 ou to create your own equipment rather than spending your bananas to buy new gear. It is a very useful skill for every monkey to master, for it allows you to create equipment anywhere. There are two different lines of crafting, which are tailoring and alchemy. In later updates, weapons also became craft-able. Enemies out in the world tend to drop ingredients required for crafting, so be sure to keep track of these dropped items!
Description
Independent and self-possessed monkeys who prefer not to spend their hard-earned bananas on the necessary equipment to go adventuring soon realize the value of crafting. Why buy your gear when you can make it yourself?
Crafting equipment is no different from baking a cake. The first thing you need is a recipe. They can be bought, awarded or found from various sources throughout Ook. Talk to different characters and explore new quests to acquire them. You can view your Book of Recipes by clicking the book icon in your backpack. Double click the recipe to add it to the book.
Once you've got the recipe, it's just a matter of gathering the necessary ingredients. Search high and low throughout Ook to purchase or collect them and, once you've got everything you need, you can craft your items right then and there. Just open up the Book of Recipes and click the Craft button. Craft useful items for yourself, friends, or even to trade and gift.