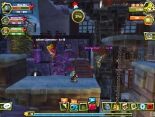 The Forbidden Keep is a trail in the Chim Foo tribe in Monkey Quest.
The Forbidden Keep sounds much more exclusive than it is. Don't fret about angering the Chim Foo Tribe by exploring here, as it's only forbidden to solitary visitors. Once the pride of the entire Chim Foo Tribe, the infestation of vicious monsters has compromised its security. Bring along a friend to access the gates securing the ground from lone intruders.
Trail Statistics
Trail Access Point: Path of Chim Foo
Trail Recommended Levels: 20-30
Trail Enemies
Magma Dragons
Bathogs
Spawners
Trail Quests
Master Chi's Test -  Master Chi needs you to find the 2 Stealth Charms in Magnolia Lake and in the Forbidden Keep. Reward: 192 Bananas/2880 XP & Stalwart Centurion Bracers OR White Chim Foo Ponytail
The Room Of Masks -  The Phantom wants you to activate the 4 Masks in the Forbidden Keep. Reward: 160 Bananas/2400 XP
The Spirits Within the Orbs -  The Phantom wants you to claim the Spirit's Treasure at the top of the Forbidden Keep. Reward: 216 Bananas/3240 XP
Tips & Hints
Two To Tangle - The gates to the Forbidden Keep only permit passage to parties of two monkeys or more. But even past the entrance, devious puzzles require one monkey to maneuver obstacles and another to navigate them.