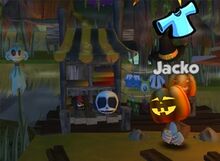 "I have the most spOOKified gear, but you better buy fast because your time is running out! Soon this will all disappear..." - Jacko
Jacko is the shopkeeper for the Halloween Party. He is a travelling merchant. He could be found at Papa Matu's Haunted Graveyard during October 2011, 2012, and 2013. Members can meet him with the Party Tree.
"Thank you and come again.. If you dare.." - Jacko
Jacko sells many Halloween items. His inventory of items changed multiple times. In 2012, he sold Halloween items along with various regular costume packs. Currently, he sells member-only items as introduced in 2013.
Trivia
[
]
Gallery
[
]