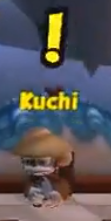 Kuchi is an NPC who resides in Lantern Ridge, a trail in the Chim Foo tribe.
He can be found at the trails first checkpoint, above an arena.
He wears an Asian conical hat.
Quests
[
]
Kuchi will give you two quests. They are;
Kuchi wants you to find the Origami Paper Crane in Lantern Ridge.
Reward: 240 Bananas/3600 XP & Fiery Breaker Feathers OR Enigmatic Breaker Feathers OR Radiant Breaker Feathers
Kuchi wants you to defeat the Shadow Bombird in Lantern Ridge.
Reward: 300 Bananas/4500 XP