Master White is a Chim Foo master and the caretaker of the Great Foo Panda. He resides at the Giant Tree in the Ootu Mystics tribe and Bonsai Peaks in the Chim Foo tribe.
Appearance
His appearance is a mix of Ootu Mystic and Chim Foo. He wears ninja master clothes, and has a mystic staff.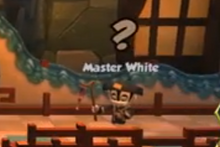 Quests
The Foodoo Doll - Master White wants you to test the elixir on a Foodoo Doll that can be found in The Giant Tree. Reward: 325 Bananas/4875 XP & Tribal Healing Necklace OR Fanged Mystic Crown
Trivia
He was blind, as evident by his pupils being completely white. Consequently, his staff also likely served as a walking stick or feeling stick.
He is one of the only characters to appear in more than one trail, along with the Mysterious Warrior and the tribal merchants that are located in Clock Tower Square.
Due to his involvement in Chim Foo quests, many associate him with the Chim Foo rather than the Ootu Mystics.