Welcome To Monkey Quest Wiki
Countdown to the
Closing of Monkey Quest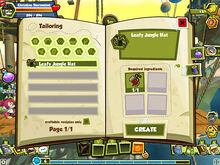 Featured Article
Crafting allows you to create your own equipment rather than spending your bananas to buy new gear. It is a very useful skill for every monkey to master, for it allows you to create equipment anywhere. There are two different lines of crafting, which are tailoring and alchemy.
Wiki Activity
Forums
Poll
What is your favorite year of Monkey Quest?
Take a look at all of our polls here!
Monkey Talk
This Wiki has been adopted by Abce2 and Bill Cipher1500! Expect many improvements in the future!
Cheers, Abce2|Talk "Other" 19:23, June 26, 2014 (UTC)
We need your help! Monkey Quest is closing on September 26, 2014 and we need to get as much info as possible. Check our forums to learn more.
Thanks, Bill Cipher1500- 16:26, August 2, 2014