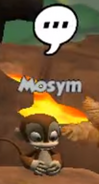 Mosym is a quest giver, residing in the Cindertop Highland.
He is a default monkey with seemingly no special clothing or items.
As implied by the quest, A Scout in Trouble, Mosym is a scout.
Quests
[
]
Kian wants you to find Mosym in Cindertop Highland.
Reward: 460 Bananas/6900 XP
Mosym wants you to defeat the Shadow Bathog in Cindertop Highland. Then, deliver the report to Kian in Clock Tower Square.
Reward: 470 Bananas/7050 XP