Nick Cash (also known as NC, previously known as NeoCash) was one of the currencies available in Monkey Quest. The other currency was Bananas. Nick Cash allowed the user to purchase special items that are not available for Bananas. NC was spent at the NC Mall. Real-world money was required to get Nick Cash. Each Nick Cash purchase came with a free virtual item, which you could redeem online. In the US, Gamestop sold the exclusive Monkey Quest Game Card.
There was a free way to get Nickcash. You could log into Neopets with your Nickelodeon Virtual Worlds Account (the username and password you used for Monkey Quest) and create a Neopet. Go to the top where it says games and select games room. Go to Luck and Chance. Click more. One of the games should be called Qasalan Expel. You could play once every eight hours. If you won Neocash from it, log out and go to Monkey Quest and it will be NickCash. 
Denominations and Prices
[
]
1 USD/CAD was equal to 100NC. NCs were purchasable through a PayPal account, or at selected stores nationwide. To locate a retailer that sells NC near you, could have clicked here. NCs were available in denominations of USD $10 and $25.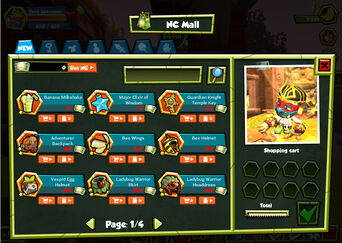 Trivia
[
]
As of recent updates, several NC items have been removed from the game, most notably the weapons, the only weapons currently REMAINING in the mall are as follows;

Grizzly Adventure Axe

,

Mandrill Staff

,

Trawler Gun

,

Piranha Blaster

, and

Buzz Blaster

.
Several costume packs were also removed, the ones REMOVED include the Voodoo Doll,

Champion Warrior

, Crimson Storm, Shadow Fighter, and others. It is unknown if any of these items will come back, though this is unlikely.