This was once a featured article!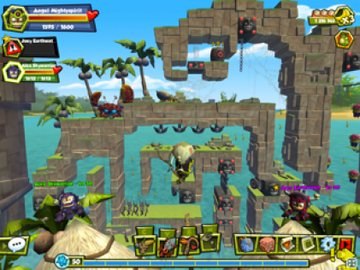 Sunken City is a Sea Dragons trail.
This trail was once an ancient city that was lost to time and the seas long ago in the past. Some sudden natural disaster caused the ocean to engulf and swallow it whole. The surprisingly intact ruins remain a popular destination for fortune-seekers hoping to discover lost treasure of immense value. Submerged and isolated, many monsters find a home in its remote corners and fight fiercely to defend it.
Trail Statistics
[
]
Trail Enemies
[
]
Residents
[
]
Inside Sunken City
[
]
There are many crumbling structures flooded by the sea. Utilizing Water Breathing Potions is almost completely necessary, as drowning in the depths of the abandoned city is a very possible outcome. For those who survive, great treasure can be found.
Loot
[
]
You can help by adding more loot obtained from Sunken City chests!
Trail Quests
[
]
Tips & Hints
[
]
Float On By - The shallow waters at the entrance to the Sunken City are misleading and provide no access to the rest of the ruins. Instead, go topside and use the Glider. Bounce off the octopus to the straw rooftops and head to the right. From there you can gracefully glide to a floating bar, and then it's a simple jump to dry land and the rest of the trail.
Over The Top Action! - The Three-Monkey Arena in Sunken City requires more than just strength in numbers. Be sure at least one monkey has the Chameleon grappling ability. To reach one of the two Spawners, grapple up on the left and use the cannon to launch to the right. Some well-timed grappling allows you to reach the switch, lifting the gate protecting the Spawner to the left.
Gallery
[
]