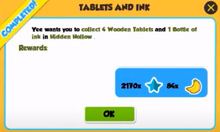 Tablets and Ink is the first quest in the questline, Joining The Chim Foo.
PreQuest Quote:
"Chim Foo are very traditional. Grand Master Whisper tells us to write everything down. Go into Hidden Hollow and find four wooden tablets and a bottle of ink." - Yee
Requirements:
Quest Giver:
Giver Location:
Objectives:
Yee wants you to collect 4 Wooden Tablets and 1 Bottle of ink in Hidden Hollow.
Find Wooden Tablets 0/4
Find 1 Bottle of ink
Talk to Kama
Quest Ender:
End Quest Quote:
"Good." - Kama
Rewards:
Next Quest: