This page contains information that has been retired in a previous update. The contents of this page may no longer be available to new users. However, they may still be available to users who started to play earlier when this quest was available.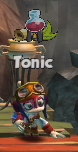 Tonic was an alchemy merchant who resided in The Underbelly. She sold alchemy ingredients. She wore Flying Baron's Goggles. Her old name was Peddle.
Due to the November 2013 update, Tonic was one of the vendors to be removed from Monkey Quest.