This was once a featured article!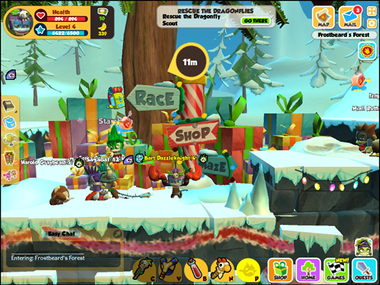 The Winter Party, also known as the Christmas Party, is an event thrown every December in Ook.  
Frostbeard's Forest is the center of activity for the Winter Party. There are various residents, such as Aliana, who gives a daily quest. Another notable resident is Starshine, who sells Christmas items. 
In a member-exclusive area of Frostbeard's Forest rests a gargantuan gorilla, Laurence. An exclusive Christmas treasure chest can be found here, which can be opened every 16 hours. 
 Another part of the Winter Party is the Winter Wonder Maze. The wonder maze has various hidden presents inside of green treasure chests and certain ice cubes. Some present ice cubes have presents inside, which will contain either Christmas crafting items, Wintery Pet Treats, or bananas. On the top of the wonder maze rests Frostbeard and one of his helpers. A Winter Jack-In-The-Box can be found, which contains many Christmas items. 
Gallery