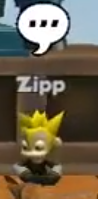 Zipp is an NPC who resides in Blimp Ridge.
Roles In Game
[
]
New Version - The Dragonfly Scout is worrying about Zipp, since he didn't come back from his mission to find five threads of Shadowy Spider Silk. Now the Dragonfly Scout wants you to search for him. You find out that the poor guy got captured by Shadow Monsters. Now it's up to you to protect him from the forces of the arena.
Old Version - Captain Tyran sent Zipp to go gather some Glowworms and Pink Reeds in Blimp Ridge, but he didn't come back. Now Captain Tyran is sending you to search for Zipp. You find out that he got captured by two Cragcrawlers, and now it's up to you to rescue him. Sadly, when you rescue him you end up doing his job, since Zipp is too scared to do it himself after getting captured by the two Cragcrawlers.
Trivia
[
]
Zipp's role in Monkey Quest got changed multiple times.
Zipp tends to be scared all of the time.